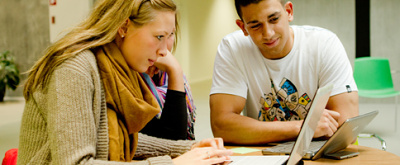 STUDY IN DENMARK!
Do you want to stand out from the crowd on the job market?
Are you disappointed with the quality of the universities in your home country?
Do you like meeting new people and discovering new cultures?
If your answer is YES, then study in Denmark!
Studying university in Denmark means you will:
become a part of one of the best and most progressive educational systems in the world
speak fluent English
make friends from all over the world
spend up to two semesters on an internship in a country of your choice
have all of the above FOR FREE!
"Studying in Denmark is great, all works exactly as it should." (Vit Chaura, VIA University College)
"I totally love it here in Aalborg, sometimes I even find myself looking forward to the next day at school!" (Martin Bloksa, University of Northern Denmark)
"The accommodation here is perfect, the student village dormitory is classy. I got everything I need here." (Andrea Salnerova, VIA Summer School)
Why study in Denmark [up]
Danes are one of the happiest nations in the world. Their society is also known for a very low corruption level. In Denmark, you will find the perfect environment for start-up businesses and one of the highest average salaries in the EU. This indeed is Denmark! So why to become a student of a Danish university?
Study in Denmark – become a part of one of the most appreciated educational systems in the world, where there are no tuition fees for students from the EU!
Your English is going to be flawless. No more fears from job interviews in English! On the contrary, it will become your advantage when applying for a job.
You will need to do an internship as a part of your studies. You can pick your own employer, or the school will help you with finding one. Doing an internship means you will get a priceless work experience which will help you later when looking for a job.
Working in small teams (4 to 5 students) is typical for Danish universities. The team works together on a long-term project – often in cooperation with a real company. Architecture students design houses, Hospitality&Tourism students prepare international conferences and others organize town marathons or work on marketing strategy for a rock band.
Get to study yet in another country by joining the Erasmus programme! Broaden your network of contacts that will help you open many doors later in your professional life.
Why not join Danish language courses? They are free of charge for all students and you will have a better starting position when applying for a part-time job in Denmark.
You can work in Denmark alongside your studies to help cover your costs. The average hourly salary for a student part-time job is approx. 13 EUR. Moreover, if you work regularly 10 to 12 hours every week, you can apply for a bursary of 780 EUR a month!
Universities [up]
We arrange studies at universities all over Denmark. Study in Copenhagen if you fancy the vibe of a capital, or chose a smaller city such as Horsens with its well-known VIA University College if you prefer a calmer location. Or, join a university in one of the popular student cities like Aalborg, Odense or Aarhus. The choice is yours!
All our partner universities:
have great reputation
offer modern, up-to-date facilities
put emphasis on team work and close cooperation with businesses
require you to do an internship as a part of your studies
have a vast network of partner universities and companies for study exchange programs and work internships abroad
support studying abroad programmes such as Erasmus
offer a wide range of extracurricular activities (sports, culture, social events and much more)
Our partner universities in Denmark:
University College of Northern Denmark
VIA University College
Copenhagen Business Academy
Zealand Institute of Business and Technology
Lillebaelt Academy, University of Applied Sciences
International Business Academy
Dania Academy of Higher Education
Business Academy Aarhus
How to apply [up]
How to apply to a university in Denmark
We are happy to assist you with your application to a Danish university. Below you can find the most important information. Do not hesitate to contact us anytime!
applying for September study start begins on 1 February and ends on 15 March (after this deadline it is still possible to apply to some universities, please contact us for more information)
majority of the universities also offer January study start for which you can apply from October to December (deadlines vary, please contact us for more information)
there is one application system for all universities in Denmark, we provide you with a step-by-step manual on how to submit your applications
documents to attach to your application:

scan of your ID card
letter of motivation
proof of your knowledge of English (most universities require B2 level for AP programmes and C1 level for Top-up courses) – if you don't have a certificate, you can take an Oxford Online Placement Test through us
copies of your annual grade reports from the past 4 years
a copy of your final high school diploma (if available)
if you're applying for a Top-up programme, you need to submit also your Transcript of Records (and your Bachelor diploma if available)
a confirmation of the number of hours of maths passed at high school (although maths is not tested to enter a Danish university, nor is being taught on the majority of courses)
a portfolio (in case you're applying for design programmes)
you can also attach your CV and/or a reference letter

there are no entrance exams, but most universities do a Skype interview with applicants
letters of acceptance are being sent out in June the latest
How much do I have to pay for your services?
Thanks to our partnership with the universities, we do not charge any fees to applicants.
I already have a degree. Can I still study for free in Denmark?
Yes, even if you already have a degree, you still won't pay and tuition fees.
What are my chances to be admitted to study in Denmark?
If you fulfill all the requirements and prove that you have a strong motivation to study, your chances are very high, although there are more and more students willing to study in Denmark each year. The most popular universities are stricter when assessing the applicants, that is why we strongly recommend to apply to at least three different universities.
Will my Danish degree be recognised elsewhere in the world?
Yes, a Danish bachelor degree is recognised all over the world.
Make the first step towards your studies abroad – get in touch with us! Make use of all the tips and tricks our consultants can give you, and save time searching for all the information yourself.
You can use the contact form below, send us an e-mail, call us or even stop by. Just please make sure you make an appointment with one of our consultants beforehand.