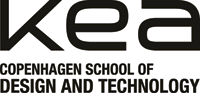 Copehagen School of Design and Technology (KEA) je vyhledávanou kodaňskou akademií pro oblasti designu, komunikace a technologie. Její kampus se nachází v moderní designové budově v samotném centru Kodaně a v současné době na ní působí necelých pět tisíc studentů z více než 60 různých zemí světa. Tato škola se vyznačuje inovativními přístupy a otevřeností, studenty podporuje v netradičních nápadech a vede je k vlastnímu, originálnímu myšlení a tvorbě.
Na KEA můžete studovat tyto stupně studia:
AP degree
Top-up Bachelor's degree
Bachelor's degree
Pro vysvětlení pojmů navštivte položku Dánský vzdělávací systém.
Kliknutím na obor jej rozbalíte, dalším kliknutím opět sbalíte. Takto si můžete přehledně porovnat náplň jednotlivých oborů. Více informací o oboru vám velmi rádi poskytneme e-mailem (studium@czech-us.cz), telefonicky či osobně.
AP obory
Top up Bachelor's obory
Bachelor's obory