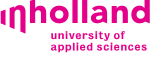 Univerzita Inholland v Nizozemí nabízí ideální místo ke studiu na mezinárodní úrovni. Jako studenti Inholland univerzity se seznámíte s profesionálními anglicky mluvicími lektory, studenty z mnoha ostatních zemí a také se seznámíte s potencionálními budoucími zaměstnavateli, kteří vám pomohou v budoucí kariéře.
Bakalářské programy:
Inholland University of Applied Sciences nabízí následující bakalářské programy vyučované v anglickém jazyce:
→ International Business Innovation Studies
→ International Music Management
→ Media and Entertainment Management

Více informací o oborech vám velmi rádi poskytneme e-mailem na studium@czech-us.cz, telefonicky či osobně.